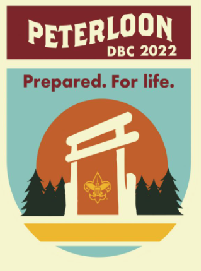 Peterloon Camporee, Cincinnati. Thurs Oct 8- 9-10 2021

We will be camping at the Camp Friedlander area in Cincinnati for the Peterloon Camporee. Event maps: Peterloon maps

REMEMBER TO SHOW IN FULL UNIFORM because we travel in full uniform.

[Travel to the venue is under review]

We will meet in the Jamboree parking lot outside of the camping area to be shuttled into the site. Likely scout Parking Area google map of scout parking area

This camporee is similar to going to King's Island or Disney World. There are activity booths/sites ALL over the campsite and the scouts can go anywhere, anytime USING THE BUDDY SYSTEM.

Buddy's of 2 minimum but larger buddy groups can buddy too. NO SOLO WANDERING.

We do NOT return to camp for lunch. There are lunch trucks all about the site, so bring money for this.

Each scout will camp in his own tent. No sharing (except brothers). Bring your own tent, or use 1 of the troop tents

MORE INFO COMING

THINGS TO DO THERE:
Early Scout games, Badin Powell Exhibit/Program,Scouting History Exhibit,Blacksmithing, Rappelling, Rock wall climbing, Archery, Axe throw, Black powder rifle,

Branding, Gaga Pit, Squeezebox/ V-Box, Giant Foosball & Croquet,Mountain Bike Course by Montgomery Cyclery, Video game booth, BB-shooting range, zip line, model rocket launching,
Portage Races by River Roads and Trails, Duncan YoYo,American Sign Museum,FBI/Secret Service,Armed Services,
Tomahawk Throwing,Climbing Wall,Blood Drive,Crate Stacking,Orienteering,BB Biathlon,Shooting Sports,National Park Service,Taft Exhibit, Rocket Building/ Launching,Buffalo Soldier Exhibit,Hopewell Exhibit,Sycamore STEM Bus, Trade Skills,Welding, AWS Careers in Welding Trailer, Plumbing,Electrical,HVAC,Fishing,UC Hospital Mobile Unit,Drones,Video Game Truck,Silent Disco,Solo Stoves

ARMY HELICOPTER LANDING then go see inside it, so GET TO THE CHOPPA!

Local Site: DAN BEARD PETERLOON

Map: Google map location of PETERLOON

COST:

Register by Aug ?th

$??.00 (prob $30-ish)

AFTER Aug ?th

$??.00 (prob $40-ish)

FORMS
1. Covid Test form Covid release for campouts

3. MEDICAL FORM A-B We will need a valid BSA medical health form (exam part C, not needed for this)

4. Zip Line Waiver Needed ONLY if you want to zipline

Each scout must have a physical each year. Physicals offered at the troop, or can be done by personal physician before July 1.
Packing List:
__Class A Uniform
__Scout Handbook
__Day Pack (for the hiking around, water)
__Backpack (to carry all your clothes & equipment)
__Tent (1 per team)
__Boots (good hiking boots)
__Clothes (change of clothing change of socks, change of liner socks, underwear, tee shirt, long sleeve shirt, light jacket)
__Snacks (for the trip )
__Flash light / Head light
__Batteries
__ Water bottle (filled with water)
__Sleeping bag
__Sleeping mat / pad
__Personal Eating Utensils (plate, cup, spoon / fork – or mess kit)
__Hygiene Kit (Toothbrush, toothpaste, soap, hand sanitizer)
__Toilet Paper in a ziplock bag
__Matches
__Compass
__Emergency kit (including a whistle, pocket knife, emergency blanket, etc)
__Wet Weather Protection Gear (Rain Jacket and Pants- pants are optional)
__Personal First Aid Kit
http://www.danbeard.org/peterloon
Please call Kyle Acus at Dan Beard Council to help with the registration system. He can be reached at 513-577-7707.