How Advancement Works in Troop 73
Advancement in Troop 73 works just like any other troop should. The working on ranks Tenderfoot through Firstclass should be working on the tasks in their books. The Life Scouts and above plus instructors plus adult scouters are allowed to sign off the requirements in the scoutís handbook. Upon completing all the achievements, the scout will have a Scoutmaster Conference with the Scoutmaster. Upon completion of this, they will go before the board of review. The date of the board of review, is the date of rank for the scout.
For Star through Eagle, things are a little different. Scouts must earn merit badges, provide leadership through one of the Troop Leadership Positions in the Troop and they must do service work. Some of the merit badges must be of the Eagle Required merit badges, while some are electives. This is quite different for the scouts that have been used to the Tenderfoot through First class ranks.
KEEP YOUR SCOUT RECORDS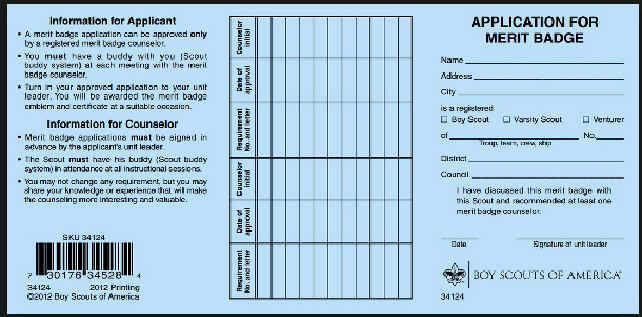 Blue Card: When a scout completes a merit badge, his councilor will hand him a blue card. This is the official BSA document the says he completed the badge. It has 3 parts, do not separate them. (the merit badge councilor may keep 1 for his/her records, thus 2 card remain)

Board of Review: He takes the card, in whole, to a Board of Review. A panel of adult leaders then reviews the requirements then separate the cards; 1 for the scout, 1 for troop, 1 for the councilor (which may already be missing) This is turned into the Scout Office to receive the badges.

Store the blue card: Keep all the blue cards as a permanent record in case the badge is not given to the scout. Plasic sheets that hold baseball cards work well.

Court of Honor: The scout is presented with the merit badge
| | | |
| --- | --- | --- |
| SCOUT'S PERSONAL SECTION OF CARD | PUT THE BLUE CARD IN PLASTIC CARD SHEET | PUT THE SHEETS IN A 3 RING NOTEBOOK |
| | | |
KEEP ALL TOGETHER