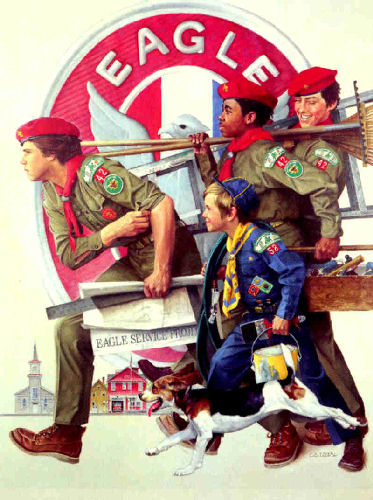 Eagle project
Justin's Eagle Project
When: November 19, 2016: 11:00 am – 2:00 pm.
Where: Black and Williams Neighborhood Center-
498 Georgetown St, Lexington, KY 40508 MAP
Description: We will be unloading all of the books, supplies, and equipment, while organizing them in the room, and whatever we can't put in the room, it will be put in the storage room in the basement.
f you need any additional information (859) 273-1133.
Bring:
Eagle Applications and other Eagle Workbook documents here
When all is finished, send
Signed Eagle Project Packet
Signed Eagle Application
have people send Letters of Recomendation (from each: parent, teacher, employer, religious leader)
(in a self-addressed envelope), have letters mailed directly to new address:
Mark Hanks
610 Wichita Dr 40503
Lexington , KY 40411
cell 859-312-5559
Download your Eagle Project Packet: PROJECT
Download Eagle Application Application
Palisades District Eagle Guidelines & Requirements
EAGLE PROJECT HELP
Attention Scouts, Leaders, and Parents or Guardians
Eagle Scout rank requirement 5 has been reworded. To support that change, a new Eagle Scout Service Project Workbook has been created. Through Dec. 31, 2011, Scouts have a choice to use either the new workbook or the one it is replacing. Scouts whose Eagle Scout service project has already been approved by the council or district under the former wording of requirement 5—and using the former workbook—should continue with the same workbook. If their project has not yet been approved by the council or district, they may elect to use the revised requirement 5 and the new workbook. Starting Jan. 1, 2012, Eagle Scout candidates—unless they have already submitted a plan for approval by the council or district under the former requirement—will be expected to fulfill the revised service project requirement 5 using the new workbook.
Attention Life Scouts! Do you need money for materials and supplies for your Eagle project? Lowe's Charitable and Education Foundation is making $100 gift cards available to support Eagle Projects. If you will be working on your Eagle Project before early spring 2014, go to www.tinyurl.com/LowesGrant and fill out the application to receive a $100 gift card. Email your completed application to John Tomecek at j@qx.net. For more information go to http://theresapatchforthat.com/lowes-eagle-project-grants/
Other Eagle sites
EAGLE SONG: Eagle Ceremony Song
Troop 73's Convocation of Eagles
| | | |
| --- | --- | --- |
| | | 2016 |
| Sami | Jabbour | 2016 |
| Jacob | Ferguson | 2016 |
| Brian | Craven | 2015 |
| Wilson | Miller | 2015 |
| Austin | W | 2015 |
| Nathan | Vranicar | 2015 |
| Ryan | Wharton | 2015 |
| Mike | Jarman | 2013 |
| Andy | Hoyt | 2013 |
| Dylan | Farrell | 2013 |
| Joseph | Schneider | 2013 |
| David | Stevens | 2013 |
| John Charles | Clarke | 2013 |
| Chris | Ward | 2013 |
| Ryan | Booth | 2013 |
| Gus | Logsdon | 2013 |
| Gordon | Glenn | 2013 |
| Conner | Cesario | 2012 |
| Gene | Logan | 2012 |
| Gordon | Glenn | 2012 |
| Nathan | Vickers | 2012 |
| Alex | Holloway | 2011 |
| Daniel | Lewis | 2010 |
| Barrett | Salley | 2010 |
| Chris | Banks | 2010 |
| Zach | Buhler | 2010 |
| Dean | Hagerman | 2010 |
| Benjamin | Littrell | 2010 |
| Nicholas | Michl | 2010 |
| Alex | Miller | 2010 |
| Will | Mullett | 2010 |
| Tim | Michl | 2008 |