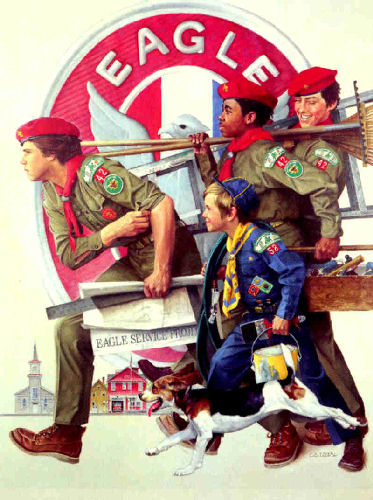 Eagle projects: Eagle Project Ideas: http://eagleprojects.boyslife.org/
| | |
| --- | --- |
| | PROJECT |
| Who | |
| Contact | ??? |
| When | ?? am |
| Where | ??? |
| What | ?? |
Eagle Applications and other Eagle Workbook documents here
Download your Eagle Project Packet: PROJECT
Download Eagle Application Application
Palisades District Eagle Guidelines & Requirements
What you need when all is finished:
Signed Boy Scout Handbook, the Scoutmaster Conference
Signed Eagle Project Packet finished
Signed Eagle Application all badges filled
have people send Letters of Recomendation (from each: parent, teacher, employer, religious leader)
(in a self-addressed envelope), have letters mailed directly to new address:
Mark Hanks
610 Wichita Dr 40503
Lexington , KY 40411
cell 859-312-5559
EAGLE PROJECT HELP
Attention Scouts, Leaders, and Parents or Guardians
Eagle Scout rank requirement 5 has been reworded. To support that change, a new Eagle Scout Service Project Workbook has been created. Through Dec. 31, 2011, Scouts have a choice to use either the new workbook or the one it is replacing. Scouts whose Eagle Scout service project has already been approved by the council or district under the former wording of requirement 5—and using the former workbook—should continue with the same workbook. If their project has not yet been approved by the council or district, they may elect to use the revised requirement 5 and the new workbook. Starting Jan. 1, 2012, Eagle Scout candidates—unless they have already submitted a plan for approval by the council or district under the former requirement—will be expected to fulfill the revised service project requirement 5 using the new workbook.
Attention Life Scouts! Do you need money for materials and supplies for your Eagle project? Lowe's Charitable and Education Foundation is making $100 gift cards available to support Eagle Projects. If you will be working on your Eagle Project before early spring 2014, go to www.tinyurl.com/LowesGrant and fill out the application to receive a $100 gift card. Email your completed application to John Tomecek at j@qx.net. For more information go to http://theresapatchforthat.com/lowes-eagle-project-grants/
Eagle Service Project Ideas
Contact your church
The Arboretum
Local Park service
Catholic Action Center
Habitat for Humanity
Other Eagle sites:
Useful EAGLE Sites Planning Guide
Eagle Project Ideas: http://eagleprojects.boyslife.org/
Bridge Buildng and Trails in Parks:
http://eagleprojects.boyslife.org/built-a-bridge-on-popular-walking-trail/
http://eagleprojects.boyslife.org/built-a-walking-bridge-in-mud-prone-area/
http://eagleprojects.boyslife.org/revitalized-a-trail/
http://eagleprojects.boyslife.org/irrigated-and-mulched-a-trail/
Fire Pits:
http://eagleprojects.boyslife.org/campsite-fire-pit-area-at-park/
http://eagleprojects.boyslife.org/built-a-fire-pit-and-gathering-area/
Tree Identification:
http://eagleprojects.boyslife.org/tree-identification-at-adams-ricci-park/
EAGLE SONG: Eagle Ceremony Song
Troop 73's Convocation of Eagles
| | | |
| --- | --- | --- |
| | | 2020 |
| | | 2020 |
| | | 2020 |
| Nicholas | R. | 2019 |
| Trevor | Cesario | 2018 |
| Justin | Franzwa | 2016 |
| Sami | Jabbour | 2016 |
| Jacob | Ferguson | 2016 |
| Brian | Craven | 2015 |
| Wilson | Miller | 2015 |
| Austin | W | 2015 |
| Nathan | Vranicar | 2015 |
| Ryan | Wharton | 2015 |
| Mike | Jarman | 2013 |
| Andy | Hoyt | 2013 |
| Dylan | Farrell | 2013 |
| Joseph | Schneider | 2013 |
| David | Stevens | 2013 |
| John Charles | Clarke | 2013 |
| Chris | Ward | 2013 |
| Ryan | Booth | 2013 |
| Gus | Logsdon | 2013 |
| Gordon | Glenn | 2013 |
| Conner | Cesario | 2012 |
| Gene | Logan | 2012 |
| Gordon | Glenn | 2012 |
| Nathan | Vickers | 2012 |
| Alex | Holloway | 2011 |
| Daniel | Lewis | 2010 |
| Barrett | Salley | 2010 |
| Chris | Banks | 2010 |
| Zach | Buhler | 2010 |
| Dean | Hagerman | 2010 |
| Benjamin | Littrell | 2010 |
| Nicholas | Michl | 2010 |
| Alex | Miller | 2010 |
| Will | Mullett | 2010 |
| Tim | Michl | 2008 |
Bobbie

Dundon
2007
Griffin

Davis
2007
Michael

Brown
2006
Stuart

Michael
2006
Nick

Mudd
2006
Chase

Urschel
2006
Stephen

Dundon
2005
Mathew

Steele
2005
Alan

Forbes
2004
Mathew

Springate
2004
Mason

Taylor
2004
Hunter

Stephan
2004
Adam

Reeves
2003
Trevor

Scoggins
1987
Erin

Ward
1985
Minor

Childers
1985
Thomas

Harn
1984
Brian

Christensen
1982
Alex

Cohen
1982
Charles

Fields
1980
Jeff

Rogers
1977
Russell

Chamberlain
1976
Carl

Distler
1976
Alan

Storrow
1976
Timothy

Back
1976
Michael

Wagoner
1973