CRAWLATHON CANCELLED for 2009 read why here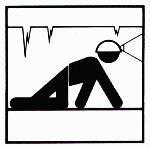 Crawlathon is an annual, all weekend, caving free-for-all at Carter Caves KY.
Jan. 23-25, 2009.
There will be easy caving, AND difficult caving, rock climbing (Up for Idiots), & rappelling (Down for Dummies)
THIS IS NOT A SCOUTING EVENT but there are SCOUT ONLY trips.
The availability of each tour is constantly changing so it would be impossible to schedule this as a scout outing. But anyone can go (if you're 6 or older) and every tour has at least 2 guides who know the cave well.
Registration is $35 for adults (ages 13 and older); $20 for children 6-12.
Fee includes access to all evening programs, workshops, cave tours (two trips Saturday and one trip Sunday), transportation to caves, and a t-shirt. You must be at least 6 years old to participate.
2009 NOW OFFERS ONLINE REGISTRATION https://ssl.myhostcenter.com/crawlathon.com/register/
Pre-registration will begin Dec. 16 and end on January 16, 2009 . On site registration begins at on Jan. 26. Payment must be received with the pre-registration.
Adventure Selection List at http://www.crawlathon.com/
LINKS:
http://www.crawlathon.com/