---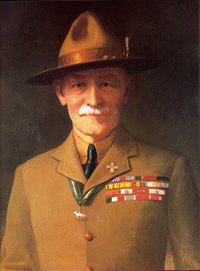 Robert Stephenson Smyth Baden-Powell, 1st Baron Baden-Powell
(22 February 1857 – 8 January 1941), also known as B-P, was a lieutenant-general in the British Army, writer, and founder of the Scout Movement.
After having been educated at Charterhouse School, Baden-Powell served in the British Army from 1876 until 1910 in India and Africa. In 1899, during the Second Boer War in South Africa, Baden-Powell successfully defended the city in the Siege of Mafeking. Several of his military books, written for military reconnaissance and scout training in his African years, were also read by boys. Based on those earlier books, he wrote Scouting for Boys, published in 1908 by Pearson, for youth readership. During writing, he tested his ideas through a camping trip on Brownsea Island that began on 1 August 1907, which is now seen as the beginning of Scouting.
On his return from Africa in 1903, Baden-Powell found that his military training manual, Aids to Scouting, had become a best-seller, and was being used by teachers and youth organisations.[23] Following his involvement in the Boys' Brigade as Brigade Secretary and Officer in charge of its scouting section, with encouragement from his friend, William Alexander Smith, Baden-Powell decided to re-write Aids to Scouting to suit a youth readership. In August 1907 he held a camp on Brownsea Island for twenty-two boys of mixed social background to test out the applicability of his ideas. Baden-Powell was also influenced by Ernest Thompson Seton, who founded the Woodcraft Indians. Seton gave Baden-Powell a copy of his book The Birch Bark Roll of the Woodcraft Indians and they met in 1906.[24][25][26] Scouting for Boys was subsequently published in six instalments in 1908.
Boys and girls spontaneously formed Scout troops and the Scouting Movement had inadvertently started, first as a national, and soon an international obsession. The Scouting Movement was to grow up in friendly parallel relations with the Boys' Brigade. A rally for all Scouts was held at Crystal Palace in London in 1909, at which Baden-Powell discovered the first Girl Scouts. The Girl Guide Movement was subsequently founded in 1910 under the auspices of Baden-Powell's sister, Agnes Baden-Powell. Baden-Powell's friend, Juliette Gordon Low, was encouraged by him to bring the Movement to America, where she founded the Girl Scouts of the USA.
In 1920, the 1st World Scout Jamboree took place in Olympia, and Baden-Powell was acclaimed Chief Scout of the World. Baden-Powell was created a Baronet in the 1921 New Year Honours and Baron Baden-Powell, of Gilwell, in the County of Essex, on 17 September 1929, Gilwell Park being the International Scout Leader training centre.[27][28] After receiving this honour, Baden-Powell mostly styled himself "Baden-Powell of Gilwell".
In 1929, during the 3rd World Scout Jamboree, he received as a present a new Rolls-Royce car and an Eccles Caravan. This combination well served the Baden-Powells in their further travels around Europe. Baden-Powell also had a positive impact on improvements in youth education.[29] Under his dedicated command the world Scouting Movement grew. By 1922 there were more than a million Scouts in 32 countries; by 1939 the number of Scouts was in excess of 3.3 million.[30]